Kingsbridge Estuary Boat Club
I am pleased to be able to report that the first KEBC meeting since Covid changed our lives was a success in spite of torrential rain and flooding in Kingsbridge.  Thirtytwo of us enjoyed the presentation from Dave Halsall, with a drink and nibbles from the club.  All those present were happy to endorse the use of the Regal Club for future events.
 
The proposed increase in mooring charges for berths on the Kingsbridge pontoons was discussed briefly.  The subject will be examined at the next committee meeting on November 8th and members with comments to make are requested to email them to committee@kebc.co.uk  It is important to remember that the Kingbridge charges are being brought into line with those for the pontoons in Batson Creek and at Victoria Quay.  None of these pontoons has water or power laid on, the Kingsbridge pontoon mooring arrangements are superior to those in Salcombe and while Kingsbridge berths are available for 12 months each year, the Salcombe berths are seasonal.Your events organiser, Linda Lee, has confirmed the club activities for November and her report follows:-
 
CLUB MEETING WEDNESDAY 17th NOVEMBER 2021
 
The Regal Club, Kingsbridge at 7.00 for 7.30pm
 
Illustrated talk by Rupert Kirkwood 'The Lone Kayaker'
 
'ALL AT SEA ……. WATCHING WILDLIFE FROM A KAYAK' 
 
His talk is about the amazing marine creatures that he has observed whilst clocking up over 27,000 miles of paddling around the S W England.
 
He has always had a fascination for natural history, complemented by his profession as a farm veterinary surgeon in Holsworthy, West Devon.
 
Following injury to his knees Rupert took early retirement and took to the water!
 
Showing photographs and videos of Seals, Sharks, Sunfish, Dolphins, Whales. Porpoises, Peregrines and Puffins as well as the best coastal scenery of Devon and Cornwall. 
If you are planning to attend what should be a fascinating evening, please email Linda Lee  events@kebc.co.uk just to give us a guide as to how many members to expect on the night.
 
KEBC  CHRISTMAS  DINNER  2021
Our Christmas Dinner is at The Cottage Hotel on Wednesday 15 December at 7.00 for 7.30/7.45pm (sitting down). If you wish to make up a party with other members it would be helpful if you would use  ONE  booking form with your meal choices and send in your monies together. (12 maximum)
A table plan will be available on arrival.
 
The Menu is for Three Courses and includes Coffee/Tea and Mint at a cost of £29 including a Tip
 
Wine can be ordered on the night.                    House Red, White, Rose      £21.00 per bottle.
KEBC CHRISTMAS 3 COURSE DINNER 2021 STARTERS
A.  Home-Made Soup of the Day
 Crusty Bread
B. King Prawn and Clam Risotto
C. Guinea Fowl Terrine
 Spiced Apple Chutney and Sourdough Toast
D. Fricassee of Red Lentils, Butternut Squash (vg)
 Winter Vegetables and Gorgonzola
E. Poached Pear in Red Wine (vg)
Pickled Physalis, Toasted Walnuts
MAIN COURSES
Oven Roasted Turkey Breast, Sliced Ham
 Stuffing, Bread Sauce and Gravy
Roast Leg of Lamb
 Crushed Peas, Chantenay Carrots, Red Wine Jus
Pan-Fried Chicken Supreme
Dry Pancetta, Wild Mushroom Tarragon Cream
Seabass Fillet with Tiger Prawn
Chilli and Orange Broth
Vegetable and Chestnut Stew (vg)
Sage and Crispy Kale
Vegetable Pulao (vg)
Goan Spiced Rice with lightly Curried Vegetables
Served with a Selection of Seasonal Vegetables and Potatoes

DESSERTS
A Trio of Home-Made Sweets
Coffee/Tea and Mint
 
It is planned to lay on a Coach from the Quay leaving at 6.45pm at a cost of £10.00 per person return.
The Cottage Hotel have offered Bed & Breakfast Accommodation at £40.00 per person (Sea View)
Book DIRECT with the Hotel.
Booking form follows below, we look forward to seeing you all soon.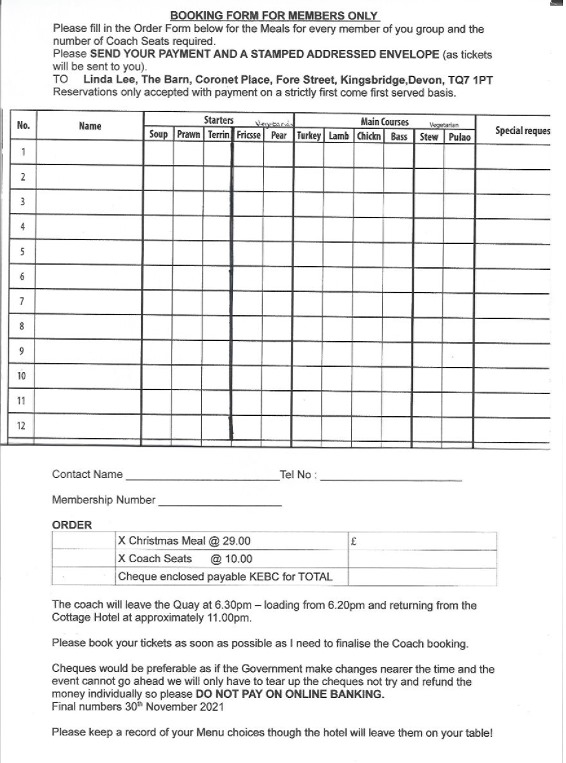 https://kebc.co.uk/wp-content/uploads/2019/12/KEBC-logo2-sm.png
0
0
WM-admin1
https://kebc.co.uk/wp-content/uploads/2019/12/KEBC-logo2-sm.png
WM-admin1
2021-10-25 10:52:28
2021-11-01 13:04:13
October Newsletter