We are pleased to offer a free advertising service to KEBC members for boats and nautical equipment.
Please use the link below for submitting either a WANTED or FOR SALE advert.
Click here to email us your advert.
Please note: Adverts with unsold equipment or boats, will be deleted after a period of 3 MONTHS and you will need to re-advertise.

Please notify us if your advert is no longer required or the items are sold.
For Sale: Desirable Tinker Tramp Dinghy
An ideal  tender or fun boat for use on the Estuary or local beaches.
Tinker boats were renown for their quality and suitability to row, sail or propel with a small outboard.The four separate air compartments make this a very safe boat.
Sold complete with oares, sail,  mast, rudder.  Keel , 12v electric pump  and carry bag.
Ideal tender, dinghy.
Asking £295-00
Contact – Jon Sibley 01548 531954

For sale – loads of old chain !
It might be old but it is in good condition and comes in various styles and weights.  Some is galvanised, some is rusty.
An ideal opportunity to purchase chain to replace a swinging mooring or renew the 'top and tail' of a running mooring.
To be sold a fraction of the price demanded by a commercial outlet – approximately ONE pound per metre.
To discuss your requirements contact Jon on 01548 531954.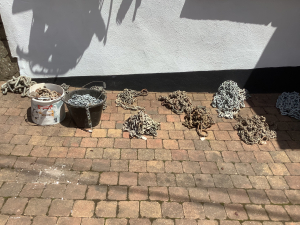 Wanted  Silhouette Mk 3 or Leisure 17 in good condition or similar small yacht. 
Contact –   ernestbrazier508@gmail.com
For Sale : Four sailing safety harnesses.
These four harnesses have rarely been used and were only carried in case of an emergency.  They are in excellent condition and surplus to requirements.
Sold at a price to encourage a fellow sailor to invest and have them onboard in case they are ever needed!
Price – £20.00
Contact Jon 01548 531954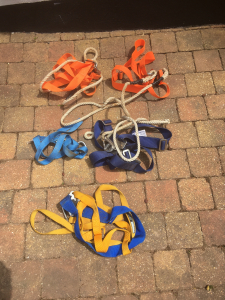 For Sale :  Quality sailing jacket with harness.
Used sailing jacket.  Size – Medium
Complete with safety harness.
An excellent 'stand bye' jacket.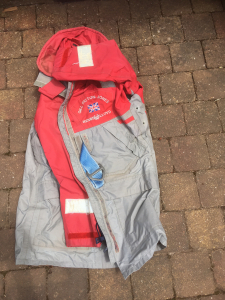 Price – £25.00
       Contact Jon – 01548 531954
Wanted : Outboard to use as an auxiliary.
The engine must be 4 to 6 hp and long shaft.
An older engine is not a problem provided it is reliable.
Please contact Alwyn Milburn on 01548 – 853966 
---
For Sale: Four Seagull Outboards.
1) Century model – 1259 CC8,  with recoil start and clutch.  This outboard has been previously overhauled by 'Saving Old Seagulls'. Mounting bracket.
2) 40 Plus – GFP 1849 BB7,  with very few hours use as it had the original spark plug when I purchased it!  Mounting bracket.
3) 40 Plus – GFP1339 FF7,   believed to have had very little use. Mounting bracket
4) 40 Minus – F1591 DD5, fitted with a brass tank and ran well when last used.  Mounting bracket.
Numerous mixed spares – plugs, propeller springs, gear box oil etc.
These four outboards have been stored for a few years and are sold as seen hence the price which is not negotiable as these engines would fetch far more on Ebay!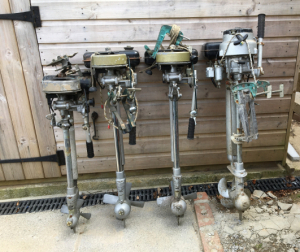 Asking £150.00
Contact seller on 07773493357
Wanted : Small road trailer suitable for a 10ft With dinghy
Contact  Roger Owen at  homesinthesun@hotmail.co.uk  or 07792 503519
---
For Sale: Really very useful fishing/laundry/garden baskets.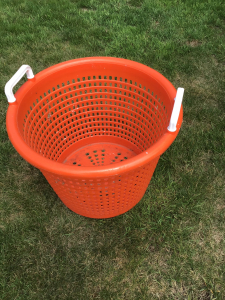 I have a small number of new fishing baskets surplus to requirements. They are sturdy and have many uses around the house and in the garden.
Price – £10.00 each
Contact Alan Lidstone 01548 531544
Hurry – only TWO remaining
For Sale: Lightly used sailing jackets and salopettes.
Item one – Dark Green Regatta Ocean salopettes.  Virtually unworn. Large.  £20.00
Item Two – Dark Blue Regatta Offshore sailing jacket with detachable fleece lining.  Size Medium.  £10.00
Item three – Red Douglas Gill sailing jacket with integral harness.  Size Large.  £10.00
Contact the seller on 01548 580363 

For Sale:  Three local Admiralty Charts.
Essential for anyone wishing to venture over the bar!
1) Salcombe Harbour Chart – No 28.
2) TWO Eddystone Rocks to Berry Head Charts – No 1613.
3) Start Point to Berry Head chart – No 1634
Asking £10.00 for all four maps.
For further information contact the seller on 01548 580363