We are pleased to offer a free advertising service to KEBC members for boats and nautical equipment.
Please use the link below for submitting either a WANTED or FOR SALE advert.
Click here to email us your advert.
Please note: Adverts with unsold equipment or boats, will be deleted after a period of 3 MONTHS and you will need to re-advertise.

Please notify us if your advert is no longer required or the items are sold.
For Sale:   Wayfarer Mk2 GRP sailing dinghy.
A well cared-for Wayfarer, was fitted out for racing many years ago but has been cruised around Salcombe estuary in recent years. Money spent on new floorboards, refurbed centreboard and bolt/seals/bushes, new rudder blade, new tiller, outboard bracket, dyneema halyards, new vang. Main, 2 jibs, a genoa and spinnaker. Sale includes combi road trailer and trolley and Trident boom-up PVC cover. A lovely boat but too big for us to manoeuvre around a boat park or across a beach, now we're getting old.
£1,500 o.n.o.
Contact the seller on 01548 856615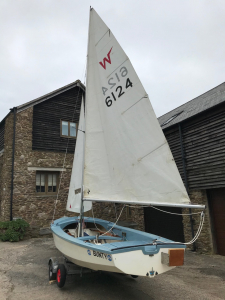 For Sale:  One Honda BF2.3 short shaft 4 stroke air cooled outboard engine.
Purchased December 2010.  Lightly used, serviced summer 2020 and not used since, one lady owner.  £395
Call Ysabel Winzar 07968 710113
Wanted : Small road trailer suitable for a 10ft With dinghy
Contact  Roger Owen at  homesinthesun@hotmail.co.uk  or 07792 503519
---
Wanted : Pair of 8ft Oars
Condition not important as willing to renovate.
Contact  Richard Cropper on 01548 531156
---
For Sale: Randmeer 21ft Day Sailer & R.M. Trailer
£3500
For Sale 21ft Dutch Day sailer/drop keel with road trailer and built in launch trolley and ramp.
Make:- Randmeer (21ft). Mast mounts to make transportation simple with cover. The boat has mooring legs for shallow or drying moorings and makes a brilliant Day sailer for the family with plenty of room.
Club Association https://rko.nl/
Please note:  The boat is being offered for sale without sails and buyer needs to take into account that they will need to purchase new sails and we have available quotations from Dart Sails @ £1500 for the Main and Genoa.
| | |
| --- | --- |
| Randmeer | Dutch |
| Length overall: | 6.50 m (21.3 ft)] |
| Water line length: | 5.50 m (18 ft) |
| Widest beam: | 2.10 m (6.9 ft) |
| Draft / Touring: | 0.75m (2.46 ft) |
| Draft / Advance: | 0.55m / 1.15m (1.8ft / 3.8 ft) |
| Design: | Van de Stadt Design |
| Mast: | 8.35 m (27.4 ft) |
| Weight: | 500 kg (1102. |
Road Trailer, Trolley and boat guides
Trailer R.M. Trailer https://www.tex-engineering.co.uk/rm-trailers-trailer-manufacturers-2/
Complete with jockey trolley and boat ramp
Boat Guide system
Located in Salcombe
Keith Baker 01548843468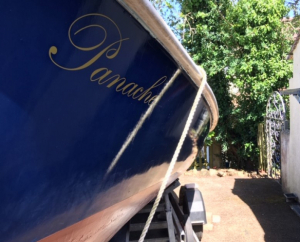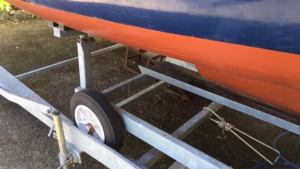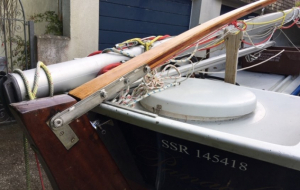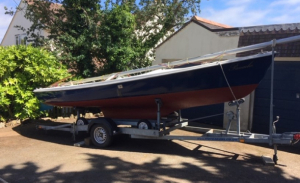 Wanted : Small road trailer suitable for a 10ft With dinghy
Contact  Roger Owen at  homesinthesun@hotmail.co.uk  or 07792 503519
---
For Sale: Really very useful fishing/laundry/garden baskets.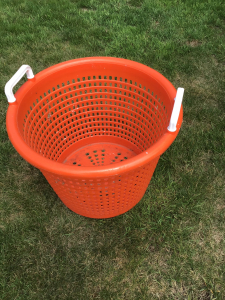 I have a small number of new fishing baskets surplus to requirements. They are sturdy and have many uses around the house and in the garden.
Price – £10.00 each
Contact Alan Lidstone 01548 531544
Hurry – only TWO remaining
For Sale: Lightly used sailing jackets and salopettes.
Item one – Dark Green Regatta Ocean salopettes.  Virtually unworn. Large.  £20.00
Item Two – Dark Blue Regatta Offshore sailing jacket with detachable fleece lining.  Size Medium.  £10.00
Item three – Red Douglas Gill sailing jacket with integral harness.  Size Large.  £10.00
Contact the seller on 01548 580363 

For Sale:  Three local Admiralty Charts.
Essential for anyone wishing to venture over the bar!
1) Salcombe Harbour Chart – No 28.
2) TWO Eddystone Rocks to Berry Head Charts – No 1613.
3) Start Point to Berry Head chart – No 1634
Asking £10.00 for all four maps.
For further information contact the seller on 01548 580363
FREE  –  30 copies of 'Classic Boat Magazine'.
(though a £5.00 donation to the charity account would be appreciated).
30 copies of Classic Boat Magazine from late 2018 to March 2021.
This excellent magazine concentrates on classic boats, old and new and features articles on all aspects of building, operating and enjoying a classic boat from the ridiculously large to a pram dinghy!
A very enjoyable read for anybody interested in boats.
For further information contact  sarblaster@btinternet.com